Get A Free Quote
All you need to do is contact us, tell us what your arrangements are and we will get something booked in for you.
Meet The Kombis

One of the best things about is us that we aren't limited to just one VW bus design. We have a broad range of distinct models, each one custom-designed to accommodate specific needs…
Let's start with what all vehicles in our fleet have in common. Ice, cold water, champagne flutes, and drivers are all available. No matter what your event, we have support teams ready and someone who can handle getting you from place to place.
Also, each of the vehicles comes with audio input designed for iPhones and other everyday electronics. We know you'd love to have your tunes to drive to, so we didn't hesitate to install those!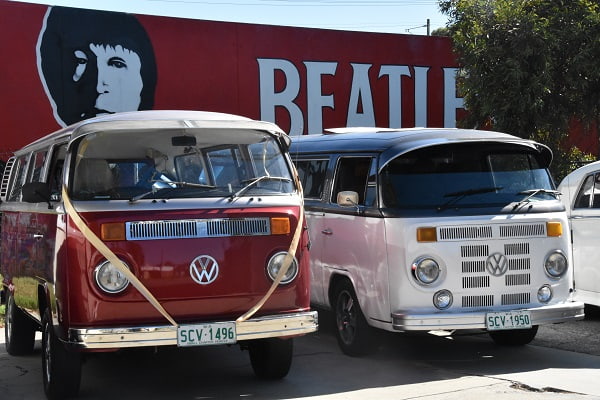 Do you need a VW Kombi that's more oriented for passenger use? We have some the standard designs, ideal for road trips or getting to and from events.
Do you need more space? How about one of our stretch kombi models? They offer more room than the VW Samba or the classic VW.
With beautiful cream colouring, our stretch VW bus can drop you off at any number of the event without looking out of place. Our stretch Kombi is popular for wedding parties. Some units in our fleet also have convertible functions, for creating a unique mood and feel.
Finally, we also have more impressive and less formal pearl white or gunmetal stretch limo-style kombi.
If you want to impress and drive around in style, our selection is hard to beat. It comes fully-features and has more legroom and interior space than anything else. If you have a huge party or want to lounge around while you impress, these are the option for you.